Who are the best bands of all time? This is a list of my favorite rock bands and influence's.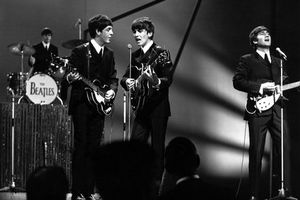 #1. The Beatles 
             The Beatles changed music and set the standard, for the next generation of bands and artists. They set many records and still hold the most number ones by a band together and have sold the most albums worldwide, some estimate 1 billion copies. But, everyone since has been heavily influenced by the Beatles, the most commercially successful group in history. The world will never forget Beatlemania.
#2. The Beach Boys
             Brian Wilson was one of the greatest melodic composers in history, the bands harmonies are one of a kind. Some of my favorite song's are ''Good Vibrations'', ''Wouldn't It Be Nice'' and ''God Only Knows''. A very chipper feel good sound. 
#3. Led Zeppelin
            Led Zeppelin has been one of the only bands to come close to rivaling the commercial success of the Beatles. Jimmy Page was one of the greatest riff makers in history. They had one of the most definitive distinct sounds ever. I loved Led Zeppelin 1, and Zozo. 
#4. Lynyrd Skynyd
      I have a little southern heritage from Kentucky, so I really love the southern blues rock sound. But, they are one of a kind and wrote some of the greatest melodic songs like ''Tuesdays Gone'', ''Free Bird'', and ''Sweet Home Alabama''. 
#5. Boston
      ''Foreplay Longtime'' is a long melodic piece of music, but one of the greatest ever. My other favorite songs are ''Peace of Mind'' and ''More Than A Feeling'' But, their sound inspired many others, including their great tones. Without them the 80's and 90's would've been totally different. 
#6. Van Halen
         Van Halen was probably my biggest influence, especially on the guitar. I learned most the great songs, and all the guitar techniques. They were one of the more talented, best sounding bands. Gotta love ''Ain't Talkin' Bout Love'' or ''Unchained''. 
#7. Metallica
         Metallica has been probably the biggest heavy metal band of all time, and the Black album is still on the charts. I loved the classical influence. My favorite albums are ''And Justice for All'', ''Black Album'', ''Master Of Puppets'' and ''Ride the Lightning''. 
#8. Nirvana
         I think that Kurt was a great songwriter, I like some of the noise he made, and the emotions or expression that came out. "'Nevermind'' is still Billboard 200, and still sounds fresh. I loved the live perfomance of ''Drain You'' and the MTV Unplugged. 
#9. The Offspring 
          When I first started playing guitar I was really inspired by the Offspring, I had just went through a skateboard phase. But, I learned a lot of the songs, and that helped me understand song structure and chord progressions. They were mostly power chords but still challenging and technical. 
#10. Creed 
           Creed was one of my favorite bands, and the first time I saw them in concert in 2001, they totally rocked. I thought that they had really strong songs, guitar and lyrics. But, it was good for me, because if was fun guitar to learn and the songs fit my vocal range. I learned most the songs from ''My Own Prison'' and ''Human Clay''. 
                        Also check out Fox News list at: https://www.foxnews.com/entertainment/the-greatest-rock-and-roll-bands-of-all-time-are
Early rock and roll
Origins
Main article: Origins of rock and roll 
The origins of rock and roll have been fiercely debated by commentators and historians of music.[20] There is general agreement that it arose in the Southern United States – a region that would produce most of the major early rock and roll acts – through the meeting of various influences that embodied a merging of the African musical tradition with European instrumentation.[21] The migration of many former slaves and their descendants to major urban centers such as St. Louis, Memphis, New York City, Detroit, Chicago, Cleveland, and Buffalo (See: Second Great Migration (African American)) meant that black and white residents were living in close proximity in larger numbers than ever before, and as a result heard each other's music and even began to emulate each other's fashions.[22][23] Radio stations that made white and black forms of music available to both groups, the development and spread of the gramophone record, and African-American musical styles such as jazz and swing which were taken up by white musicians, aided this process of "cultural collision". 
The immediate roots of rock and roll lay in the rhythm and blues, then called "race music",[25]and country music of the 1940s and 1950s.[20]Particularly significant influences were jazz, blues, gospel, country, and folk.[20]Commentators differ in their views of which of these forms were most important and the degree to which the new music was a re-branding of African-American rhythm and blues for a white market, or a new hybrid of black and white forms.
In the 1930s, jazz, and particularly swing, both in urban-based dance bands and blues-influenced country swing (Jimmie Rodgers, Moon Mullican and other similar singers), were among the first music to present African-American sounds for a predominantly white audience.[27][29] One particularly noteworthy example of a jazz song with recognizably rock and roll elements is Big Joe Turner with pianist Pete Johnson's 1939 single Roll 'Em Pete, which is regarded as an important precursor of rock and roll.[30][31][32] The 1940s saw the increased use of blaring horns (including saxophones), shouted lyrics and boogie woogie beats in jazz-based music. During and immediately after World War II, with shortages of fuel and limitations on audiences and available personnel, large jazz bands were less economical and tended to be replaced by smaller combos, using guitars, bass and drums.[20][33] In the same period, particularly on the West Coast and in the Midwest, the development of jump blues, with its guitar riffs, prominent beats and shouted lyrics, prefigured many later developments.[20] In the documentary film Hail! Hail! Rock 'n' Roll, Keith Richards proposes that Chuck Berry developed his brand of rock and roll by transposing the familiar two-note lead line of jump blues piano directly to the electric guitar, creating what is instantly recognizable as rock guitar. Similarly, country boogie and Chicago electric blues supplied many of the elements that would be seen as characteristic of rock and roll.[20] Inspired by electric blues, Chuck Berry introduced an aggressive guitar sound to rock and roll, and established the electric guitar as its centrepiece,[34] adapting his rock band instrumentation from the basic blues band instrumentation of a lead guitar, second chord instrument, bass and drums.
Bill Haley and his Comets performing in the 1954 Universal International film Round Up of Rhythm 
Rock and roll arrived at a time of considerable technological change, soon after the development of the electric guitar, amplifierand microphone, and the 45 rpm record.[20]There were also changes in the record industry, with the rise of independent labels like Atlantic, Sun and Chess servicing niche audiences and a similar rise of radio stations that played their music.[20] It was the realization that relatively affluent white teenagers were listening to this music that led to the development of what was to be defined as rock and roll as a distinct genre.[20] Because the development of rock and roll was an evolutionary process, no single record can be identified as unambiguously "the first" rock and roll record.[36] Contenders for the title of "first rock and roll record" include Sister Rosetta Tharpe's "Strange Things Happening Every Day" (1944),[37] "The Fat Man" by Fats Domino (1949),[36] Goree Carter's "Rock Awhile" (1949),[38] Jimmy Preston's "Rock the Joint" (1949), which was later covered by Bill Haley & His Comets in 1952,[39]"Rocket 88" by Jackie Brenston and his Delta Cats (Ike Turnerand his band The Kings of Rhythm), recorded by Sam Phillips for Sun Records in March 1951.[40] In terms of its wide cultural impact across society in the US and elsewhere, Bill Haley's "Rock Around the Clock",[41] recorded in April 1954 but not a commercial success until the following year, is generally recognized as an important milestone, but it was preceded by many recordings from earlier decades in which elements of rock and roll can be clearly discerned.
Other artists with early rock and roll hits included Chuck Berry, Bo Diddley, Little Richard, Jerry Lee Lewis, and Gene Vincent.[40]Chuck Berry's 1955 classic "Maybellene" in particular features a distorted electric guitar solo with warm overtones created by his small valve amplifier.[44] However, the use of distortion was predated by electric blues guitarists such as Joe Hill Louis,[45]Guitar Slim,[46] Willie Johnson of Howlin' Wolf's band,[47] and Pat Hare; the latter two also made use of distorted power chords in the early 1950s.[48] Also in 1955, Bo Diddley introduced the "Bo Diddley beat" and a unique electric guitar style,[49] influenced by African and Afro-Cuban music and in turn influencing many later artists.
Rockabilly
Main article: Rockabilly 
Elvis Presley in a promotion shot for Jailhouse Rock in 1957 
"Rockabilly" usually (but not exclusively) refers to the type of rock and roll music which was played and recorded in the mid-1950s primarily by white singers such as Elvis Presley, Carl Perkins, Johnny Cash, and Jerry Lee Lewis, who drew mainly on the country roots of the music.[53][54]Elvis Presley was greatly influenced and incorporated his style of music with some of the greatest African American musicians like BB King, Chuck Berry and Fats Domino. His style of music combined with black influences created controversy during a turbulent time in history but that did not stop them from creating what we call Rock n Roll.[54] Many other popular rock and roll singers of the time, such as Fats Domino and Little Richard,[55] came out of the black rhythm and blues tradition, making the music attractive to white audiences, and are not usually classed as "rockabilly". 
Bill Flagg who is a Connecticut resident, began referring to his mix of hillbilly and rock 'n' roll music as rockabilly around 1953.[56]His song "Guitar Rock" is considered as classic rockabilly.
In July 1954, Elvis Presley recorded the regional hit "That's All Right" at Sam Phillips' Sun Studio in Memphis.[57] Three months earlier, on April 12, 1954, Bill Haley & His Comets recorded "Rock Around the Clock". Although only a minor hit when first released, when used in the opening sequence of the movie Blackboard Jungle a year later, it set the rock and roll boom in motion.[41] The song became one of the biggest hits in history, and frenzied teens flocked to see Haley and the Comets perform it, causing riots in some cities. "Rock Around the Clock" was a breakthrough for both the group and for all of rock and roll music. If everything that came before laid the groundwork, "Rock Around the Clock" introduced the music to a global audience.[58] 
In 1956, the arrival of rockabilly was underlined by the success of songs like "Folsom Prison Blues" by Johnny Cash, "Blue Suede Shoes" by Perkins and the No. 1 hit "Heartbreak Hotel" by Presley.[54] For a few years it became the most commercially successful form of rock and roll. Later rockabilly acts, particularly performing songwriters like Buddy Holly, would be a major influence on British Invasion acts and particularly on the song writing of the Beatles and through them on the nature of later rock music.[59] 
Doo wop
Main article: Doo wop 
Doo-wop was one of the most popular forms of 1950s rhythm and blues, often compared with rock and roll, with an emphasis on multi-part vocal harmonies and meaningless backing lyrics (from which the genre later gained its name), which were usually supported with light instrumentation.[60] Its origins were in African-American vocal groups of the 1930s and 40s, such as the Ink Spots and the Mills Brothers, who had enjoyed considerable commercial success with arrangements based on close harmonies.[61] They were followed by 1940s R&B vocal acts such as the Orioles, the Ravens and the Clovers, who injected a strong element of traditional gospel and, increasingly, the energy of jump blues.[61] By 1954, as rock and roll was beginning to emerge, a number of similar acts began to cross over from the R&B charts to mainstream success, often with added honking brass and saxophone, with the Crows, the Penguins, the El Dorados and the Turbans all scoring major hits.[61] Despite the subsequent explosion in records from doo wop acts in the later '50s, many failed to chart or were one-hit wonders. Exceptions included the Platters, with songs including "The Great Pretender" (1955)[62]and the Coasters with humorous songs like "Yakety Yak" (1958),[63] both of which ranked among the most successful rock and roll acts of the era.[61] Towards the end of the decade there were increasing numbers of white, particularly Italian-American, singers taking up Doo Wop, creating all-white groups like the Mystics and Dion and the Belmonts and racially integrated groups like the Del-Vikings and the Impalas.[61] Doo-wop would be a major influence on vocal surf music, soul and early Merseybeat, including the Beatles.[61] 
Cover versions
Main article: Cover version 
Many of the earliest white rock and roll hits were covers or partial re-writes of earlier black rhythm and blues or blues songs.[64]Through the late 1940s and early 1950s, R&B music had been gaining a stronger beat and a wilder style, with artists such as Fats Domino and Johnny Otis speeding up the tempos and increasing the backbeat to great popularity on the juke jointcircuit.[65] Before the efforts of Freed and others, black music was taboo on many white-owned radio outlets, but artists and producers quickly recognized the potential of rock and roll.[66]Some of Presley's early recordings were covers of black rhythm and blues or blues songs, such as "That's All Right" (a countrified arrangement of a blues number), "Baby Let's Play House", "Lawdy Miss Clawdy" and "Hound Dog".[67] The racial lines, however, are rather more clouded by the fact that some of these R&B songs originally recorded by black artists had been written by white songwriters, such as the team of Jerry Leiber and Mike Stoller. Songwriting credits were often unreliable; many publishers, record executives, and even managers (both white and black) would insert their name as a composer in order to collect royalty checks. 
Rock and roller Little Richardperforming in 2007 
Covers were customary in the music industry at the time; it was made particularly easy by the compulsory licenseprovision of United States copyright law (still in effect).[68] One of the first relevant successful covers was Wynonie Harris's transformation of Roy Brown's 1947 original jump blues hit "Good Rocking Tonight" into a more showy rocker[69] and the Louis Prima rocker "Oh Babe" in 1950, as well as Amos Milburn's cover of what may have been the first white rock and roll record, Hardrock Gunter's "Birmingham Bounce" in 1949.[70] The most notable trend, however, was white pop covers of black R&B numbers. The more familiar sound of these covers may have been more palatable to white audiences, there may have been an element of prejudice, but labels aimed at the white market also had much better distribution networks and were generally much more profitable.[71] Famously, Pat Boone recorded sanitized versions of songs recorded by the likes of Fats Domino, Little Richard, the Flamingos and Ivory Joe Hunter. Later, as those songs became popular, the original artists' recordings received radio play as well.[72] 
The cover versions were not necessarily straightforward imitations. For example, Bill Haley's incompletely bowdlerizedcover of "Shake, Rattle and Roll" transformed Big Joe Turner's humorous and racy tale of adult love into an energetic teen dance number,[64][73] while Georgia Gibbs replaced Etta James's tough, sarcastic vocal in "Roll With Me, Henry" (covered as "Dance With Me, Henry") with a perkier vocal more appropriate for an audience unfamiliar with the song to which James's song was an answer, Hank Ballard's "Work With Me, Annie".[74] Elvis' rock and roll version of "Hound Dog", taken mainly from a version recorded by the pop band Freddie Bell and the Bellboys, was very different from the blues shouter that Big Mama Thornton had recorded four years earlier.[75][76] Other white artists who recorded cover versions of rhythm & blues songs included Gale Storm [Smiley Lewis' "I Hear You Knockin'"], the Diamonds [The Gladiolas' "Little Darlin'" and Frankie Lymon & the Teenagers' "Why Do Fools Fall in Love?"], the Crew Cuts [the Chords' "Sh-Boom" and Nappy Brown's "Don't Be Angry"], the Fountain Sisters [The Jewels' "Hearts of Stone"] and the Maguire Sisters [The Moonglows' "Sincerely"].