Who's the Best Guitar Player?
I wanted to write a blog about my favorite guitarist's and who I think is the best, which are those that influenced me the most. There has been much debate and many lists, but I'd like to comprise my own list of 10 best guitar players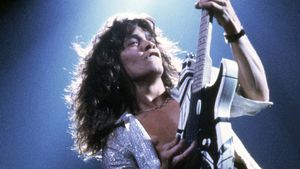 #1. Eddie Van Halen 
One of my biggest influences, and one of the most original innovative guitarists. He came out big with finger tapping, effects, whammy bar antics, pinch harmonics, and was a great riff and song writer as well as an inventor of some of the best guitars. Maybe the best guitarist ever?
#2. Jimmy Page
Jimmy Page was a great songwriter and riff maker, he also played with a lot of feel and expression and had great tones. I love the music of Led Zeppelin and he was a major influence of mine, I learned many of the Zeppelin riffs. 
#3. Yngwie Malmsteen
I love his classical influence on his playing and that he was inspired by a violin player Paganini. It was a difficult style to master, challenging and fun. Fast runs, sweep picking and harmonic minor scales. 
#4. Randy Rhodes
I was actually very influenced by his playing, and I learned many of the songs from Ozzy's live album. He made some iconic riffs for sure, but the legato style stayed with me and really influenced my writing and  playing. 
#5. Stevie Ray Vaughan
One of the most difficult styles to master, with his percussive blues rock playing, he's one of the most popular to emulate, but few come close to his true sound. 
#6. Mark Tremonti
I was a big Creed fan in high school, I like the lyrics, but the riffs were also great, I had to learn most of the songs, one of the best guitar players
#7. James Hetfield
James Hetfield has been a great songwriter and made many iconic riffs, that were like classical pieces of music. He also has written some of the bands greatest leads, that few would probably know about. 
#8. Paul Gilbert
I got into Paul Gilbert at the end of high school, he was one of the last guitarists I got into. But, he had some great melodic legato riffs. He has influenced my shredding skills for sure. 
#9. Kurt Cobain
Some people don't think he's a great guitarist because he's not as technical. But, I thought he was original songwriter, and he also had great feel and expression in his playing and music. MTV Unplugged was one of the greatest moments in music history. 
#10. Zakk Wylde Zakk Wylde was one of my biggest heroes, I would always try to play and act like him on stage or in band practice. I got into the pinch harmonics, but I loved how he spiced up Ozzy's song's and I learned to do that. 
and that's my top 10 guitarists.. 
                      Check out Spin's list at: https://www.spin.com/2012/05/greatest-guitarists-all-time/